Just wanted to propose food for thought in regard to organic search engine optimization. We talked about keeping SEO natural in the past and how frequency of changes over time impact SEO and website position. How volatile is disrupting trust when it comes to a website, and is it possible to make too many changes too fast?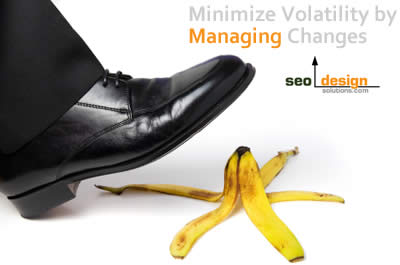 Sometimes your rankings slip and you don't know why. If which case, you may wish to see if there have been any adverse changes to your site (both on page and off page) that could be contributing to the source of the event.
For example:
Any combination of these criteria and dozens of other factors could contribute to a flux or drop in search engine rankings.
having pages dexindexed
sitemap errors
plug in conflicts if you have a CMS system
duplicate content
gaining or losing links to fast
changing your template or on page factors
(meta data, robots.txt file, etc.)
There are algorithms in place to monitor shifts and alterations of your web pages content. Despite the reason why this exists, the fact is making changes to a site does impact the delicate balance of link weight, trust and relevance score.
We tend to implement changes over time to clients sites to avoid getting red flagged for shifting the infrastructure or legacy blueprint that exists for the clients website. Similarly, adding 1000 pages in a short period of time, or simply removing 300 pages in one fell swoop is not the best way to engender trust with search engines.
The idea is to create scalable solutions over time, so in the event that you lose footing in one area, you are able to identify the circumstances and patterns that contributed to the event and reverse engineer or re-upload your previous version of a page if all else fails.
Depending on what settings are in play at the time (which only a handful of search engineers know) things as simple as changing a title can send a page plummeting, while yet at other times such a thing has no effect.
The only constant is change, however if you intend to implement sitewide changes to a site, just realize that each page despite you attempts to coerce search engines to visit will have different crawl rates, which means it make take weeks or months for your entire site to get re-crawled and indexed after the changes are done.
As a result, this can leave your strongest ranking pages vulnerable to fluctuation as the changes go through the cycles of updates until your relevance score can be reassessed. The moral of the story is, be careful when removing key components to a page (such as off topic outbound links), shifting anchor text, changing templates, etc. For example, first change the template, then wait a few days to a week, check the rankings (without making on page adjustments), if all is well, then go to your strongest pages first and experiment with shifting the on page factors.
By making changes over time (such as scaling content, revision to pages or links) you can hit the undo button so to speak if the trust rank your website has acquired suddenly goes south (along with your most revered search engine positions).
Just as gaining or losing links can flag your site for review or penalization, adding content, links or shifting the on page factors too fast can also have adverse effects (depending on a variety of diverse circumstances).
Read More Related Posts
SEO Video about Website Silo Architecture
SEO, Rankings and The Way People Search The
5 SEO Tips to Avoid Common SEO Mistakes
Warning! Search Engine Algorithm Changes Detected!
SEO Review: Get a FREE SEO Review!
SEO Tips to Optimize a New Website
Search Engine Strategies That Work