In the past we discussed SEO principals like legacy pages and the IR repository, how to funnel link weight and sculpt on page factors, internal links, deep links, trust rank and domain authority, keyword prominence and relevance, topical continuity, theming and siloing and more, but one thing remains the same…the fact that search engine algorithms change.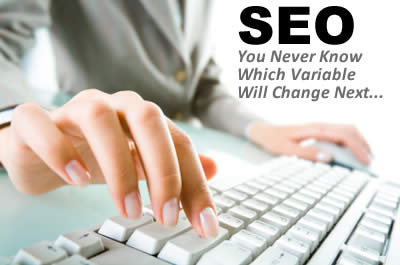 What is favorable today to search engines may not pass value in a month. The great, yet challenging aspect about SEO is, you never know which factors will shift, ignore or impact the variables your website exhibits.
Each site has a unique signature that inevitably carves its own path in reference to relevance and information retrieval, no two sites are alike (and rightly so). Google admits to making over 400 changes to the algorithm last year, who could possibly keep up? (or so you think).
The only certainty is that (a) everything will change and (b) as long as your focal point is quality content, impeccable site architecture (with no page left behind) your website will have the highest degree of SEO defense possible to weather the storm. Since we are on that topic, here are three interesting observations in the SERPs (search engine result pages) as of late.
1) Case Sensitive Search– Case sensitive search is more sensitive than ever. In fact, try a keyword you notably rank for and then try searching for it again in CAPS or Title Case. In the past, case and tense were less sensitive, however now, it seems that search engines really want to make sure what your intentions are (and returns unique search results accordingly) for each type of capital or lower case combination for queries.
Arguably, this phenomenon is traceable back to the original backrub algorithm that debuted years ago with emphasis that each character on a page was essentially translated into a compressed signature. That signature or shingle (cluster of words) could then be compared, evaluated and sorted based (pattern recognition, ) using the types of co-occurrence that are shared or omitted.
The takeaway here is, perhaps a site audit is in order to look for anchor text to edit to make Title Case alterations to lower case keywords from your most powerful pages. Another alternative is to use the alt attribute in images to use lowercase versions of anchor text for building backlinks or internal links if the body of the page would look out of character with lower case text.
2) Over-Optimization – Is there such a thing?, surely… Not only is Google looking at link clusters and overtly unnatural anchor text (like 1200 sites all deep linking to you with the same keyword or sitewide links). The idea is to broaden the ability to activate latent words in the body copy of your site and spark a ranking chain reaction as new link flow moves throughout your site. Penalties do exist for a reason, and if all of a sudden, your rankings tank, chances are you overdid it.
3) Trusted Aged Domains are Ranking Stronger – We all know about how time equates to trust online and now more than ever older sites have managed to collect thousands of keywords as trophies. Think of velocity and osmosis, if your website is structured properly then every 3-4 months multiple pages graduate and sprout page rank and gain an identity amidst the web.
The longer a site is on line, the more momentum it can gain as a ranking juggernaut. Aged domains are as tough as nails to outrank and are like mountains that stand in your way on your quest for the summit. In order to outmaneuver them, you need all of the right on page attributes, aged links and an added boost from another aged site can never hurt.
Oftentimes the waiting game is the hardest part of toppling a keyword. It is the one part you can never truly put your finger on. Some keywords fly to the top (like a bow already taught), others casually glide past other sites in strides of 6 weeks.
While the waiting game is tough, every day that you work toward a goal (competitive keywords) and your competition does nothing, your website closes the gap exponentially. So, if you want a top ranking key phrase, you have to prove it by taking action daily (building links, writing additional content to develop topical relevance, etc.).
At the rate of personalization and all things in between, by the time you read this, a new shift in the organic ranking algorithm has already occurred. The only thing that is certain is that transparency for search engines always leaves a trail.
The quest for a good SEO is to observe patterns in the SERPs, experiment and make alterations and corrections to appease the new agenda to maintain course. Staying in favor with organic algorithms is imperative for a website and can handsomely reward your pages with new found vigor and relevant surges of traffic.
Yet, at any moment, you know that the tides of search could shift and all of the comforts of being found in familiar top 10 positions could fade away if you do not adapt to the new flavor of the algorithm. For example, deep links and aged pages are definitely a safe investment in tweak time if you intend to fine-tune some pages in the next 30 days.
Similarly, an investment in internal / external linking using xml-sitemaps as beacons to funnel link flow could also yield favorable results. The great thing is, you never know until you try or precisely which combination of variables will yield the highest returns. That is the beauty of SEO, that you can always keep refining your tactics as you ride the waves of timing, momentum and change.

Read More Related Posts
The Trinity of Traffic, Credibility and Conversion
Spending Link Equity Wisely
SEO Link Building Tips: Other Ways to Build
Link Building: SEO Link Types and Tactics
SEO, Multiple Indices and a Reorder of Relevance
Search Engine Strategies That Work
Theme Density – The Ultimate SEO Ranking Factor
Building SEO into the Core of Your Website
Google Toolbar PageRank Update October 2009