Wouldn't it be nice to have an SEO checklist for conducting a brief sweep of your website to see if it is firing on all cylinders? Having a few choice metrics to conduct a heuristic evaluation is a great way to assess the SEO process to determine if your website is fine-tuned for search engines using organic optimization.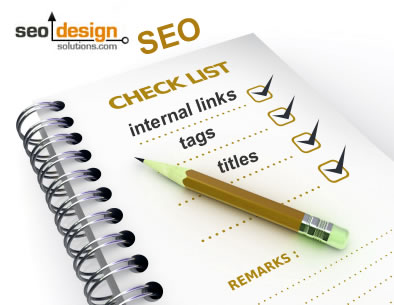 Areas typically assessed are:
1. The Web Site Architecture
A few notes worth investigating is to use a CMS (content management system) to administer new content or update older content, which can save time, energy and effort. Make sure your CMS can add custom tags (such as no follow, no index, follow, of create custom meta data or administer custom settings for each page). This will allow you to determine which pages are for SEO and which pages are supporting pages than can funnel ranking factor to the preferred landing page.
Also being able to change the title to H1 tag, add tags for taxonomy and create keyword rich sub folders for an optmized site architecture is advantageous for optimizing your CMS.
2. SEO Content
Keyword research is the blueprint. The more thorough your competitive intelligence, the higher your website can rank if each page is structured on a solid semantic objective.
Start with a group of 20 keywords or phrases, map out their singular, plural and long tail implications of a search term and for the more competitive phrases (more on how to gauge competition here), write deep silos of information on the topic to make each page buoyant.
For example, we may have to create 20 pages on Topic A, to rank for Topic A, but each page can also rank for 3 derivatives of the root phrase on A to funnel relevant traffic.
You can find more about finding the threshold for Google optimization using SEO content creation, internal and external links and what types of things you can do to leverage them in tandem to create a specific ranking objective.
3. Meta Data & Tags
On a side note, tags exist to allow you to effectively communicate the topic and subject matter what that page is about. Traditional tagging was done through adding a keyword tag (back in the static days of basic html) but has been replaced with a new method.
Now with content management systems, dynamic scripts and database driven sites, adding tags to a post or page is the next evolution of this methodology. Remember the semantic web is all about sorting, sifting, relevance and in some ways redundancy (to communicate your topic through and through).
When someone else links to your or is looking for content to reference or include on their own site, tags are what promote your pages to let them know what subjects they can find on that page.
Using the proper naming conventions are important, if your page is about blue widgets, then your page should be tagged widgets, blue widgets as well as have a compelling call to action in the snippet (since people do have choice) to entice them to click your snippet.
A snippet is content extracted from your page from search engines in order to summarize the context of the search term. You can also showcase a default meta description once you have decided on the shingles (group of words) you have optimized the page for.
Extra care should be used in crafting effective meta data, as this alone can shift ranking factors to consolidate the focal point of your content, page and collective website as a whole. On off topic tag with all of the other dialed-in SEO factors can inhibit the pages visibility.
With SEO all components must work together to produce the desired effect. In fact, it is all about the on page and off page SEO synergy that transpires and tracking and refining that exchange that determines how high your pages climb.
4. Internal links and deep links
Creating custom plug ins or modules that create specific consistencies across a diverse array of pages can all be administered through a content management system. You can implement solutions to the most meticulous yet necessary tasks. We have an array of custom plug ins we use exclusively on our sites to streamline continuity for managing link weight distribution, internal linking and other SEO related functions.
One of my favorite developers aside from our own lead developer John Lamansky is Joost De Valk at Yoast. You will find a plethora of useful CMS plugins, apps and custom tweaks for WordPress at Joost's website.
Yet, if you have to do it the old fashioned way, here are a few links to resources for SEO and internal linking, a primer on link weight and link velocity and link flow and how to use prominence to select the best landing page.
The most important aspect of SEO is to correct any inconsistencies (the first time around) rather than trying to fix them later which can cost you time to market while waiting for each page to get reindexed.
This list could go on for hundreds of pages, but it has to stop somewhere. In closing here are related links to other posts on the topics mentioned above, that can shed additional light on the subject of on page and off page optimization.
5. Additional Links / Resources
We hope you found this SEO checklist informative and insightful. For more SEO Tips, tactics and techniques feel free to visit the SEO Design Solutions blog.
Read More Related Posts
Keyword Research and SEO Strategy
5 SEO Tips to Keep Rankings On Track
Does Your SEO Have a Game Plan?
10 SEO Techniques for Top 10 Rankings
SEO Tips and Techniques from The Archives
The Best SEO Strategies Mature Over Time.