Search Engine Optimization (SEO) is all about layering processes over time. Often we receive calls from prospects who (a) want to rank for the most competitive keywords and (b) do not have a website (c) have a website that has virtually no content or (d) just a handful of links.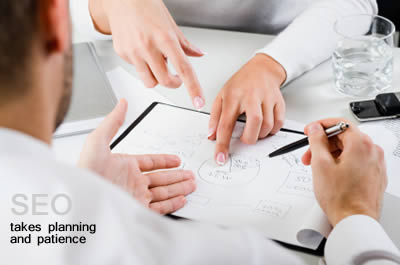 Aside from the fact that SEO is built on foresight and planning, tweaks, refinement and chronology, the reality is, the longer you wait to get started the longer it is going to take to overcome competition who has already engaged their market or started optimizing their site for those keywords.
There is a natural pecking order assigned within the search engine algorithm that has a tendency to discredit newer sources of information or newer websites. Granted, this does not mean that if you perform specific functions and appease those criteria that you cannot exceed the boundaries of such an algorithm.
However, chronology does play a big part of how far you can push the envelope in regard to organic search engine optimization. For example, although you may not be able to attract 5,000 links to a site or build 5,000 links using link building services for a new site without raising a possible red flag, on the contrary you could add 1000 internal links (which are the equivalent when they age) as far as the amount of value they pass for SEO.
There is no penalty for linking to yourself, there are no penalties for creating unique and rewarding content to share with others. So, although authority sites (massive sites with thousands or pages or links) are rewarded in the search algorithm, instead of being intimidated by them or trying to outright compete with them. Taking a more methodical approach such as truly defining your objectives then giving your website several months to a year to topple a competitive keyword is more realistic.
A website that uses a content ranking strategy has specific advantages (1) each new page provides an opportunity to reinforce the theme. The theme is the root keyword or phrase targeted through using supporting pages/articles/posts on a topic.
If I know for example that the main keyword I wish to rank for has 4 million competing pages (enter the keyword "in quotes" in a Google search), no amount of links alone is going to magically make a website cut in line and rank in the top 10 organically without first setting the stage and adjusting the variables which are under our control.
The checklist for example may prescribe the following solution.
ensuring the programming platform is easily parsed (valid xhtml or code that validates helps)
that clearly delineated naming conventions using keyword-rich sub folders were thought out for (a) the user experience and (b) search engines
that the website uses a content management system with a structured protocol (no following outbound links) optimizing the internal link structure to reinforce the theme through internal link siloing
that each keyword has two fundamental things (1) a sufficient amount of content (such as 50 posts per competitive keyword over time) and (2) an ample amount of deep links from various sources to cross the tipping point / threshold for each keyword.
Analytics installed to measure, assess and track variables live as they occur
and to top it off, links from other authority sites to act as the glue/trust to bestow the new site or content with the needed boost to reach critical mass
Ranking for competitive keywords is more about the method and how it is scaled over time than just targeting a keyword alone in and of itself. There are multiple methods to apply SEO, some involve a content development strategy like the one above, others are more intricate involving custom coding and structure, others involve concentrating the focus of the site with less pages to create an apex like focus for just a few keywords, etc.
The main takeaway here is, testing, timing (for crawling and indexing from search engines), refinement of the approach, titles, meta data or content (to keep things evolving) or managing the link popularity of a page and the site (both internally and externally) are a given.
Although everyone wants to put a sticker on authority and jump in line when it comes to acquiring competitive keywords or market share. The fact is, it simply takes time for all of the variables to align in such a way that the results stand the test of algorithmic fluctuations and gain immunity from volatility or drastic shifting in the SERPs (search engine result pages).
Using a benchmark of how many competing pages a search has is not the only metric one can use, but it is a solid one that at least can provide a tangible time line of what type of optimization and the degree of optimization required to achieve the objective.
For example a keyword with 20,000 competing pages or less (1-2 months), 50K-250 competing pages (3-4 months), 500K-1MM competing pages (6-7 months), more than 1MM competing pages (depends on the sites authority, content, age, link structure etc) but you could be looking at 8 months to 1 year to cement such a ranking.
Naturally any of these variables could shift along the way from (1) search engines shifting the way they weight pages, content or co-occurrence and links or (2) your site gains more traction sooner than expected.
In either case, be prepared to dig in for the long haul and keep your eye on the goal while sticking to a blueprint of adding the necessary ingredients to increase your website authority. Over time, search engines will continue to close the gap and buoyancy for the keywords you target (and a whole lot more) will continue to rise to the top if you are working within the structure of ethical guidelines.
It doesn't pay to bend the rules as months of work could plummet if you are too aggressive with a campaign. Natural steady growth from within, augmented by solid off page fundamentals (IP diversity and anchor text variation) are one way to ensure your keyword ranking objectives trajectory is not compromised by impulsive SEO techniques.
Read More Related Posts
SEO Positioning or Market Share, Which Matters More?
Competitive Market Analysis to Reverse Engineer Competitors
Organic SEO and Search Engine Cycles
SEO Best Practices: Getting Started
Keyword Research: SEO, Traffic and Conversion
Where Is The SEO Backlink Sweet Spot?
SEO Tips to Create Stronger Trust & Domain