Since you never know which keywords will gain traction first (at which rate, how often they will spike or fluctuate based on factors like supply / demand, seasonal trends or alternate broad match variations) you need to separate keywords that perform from keywords that do not.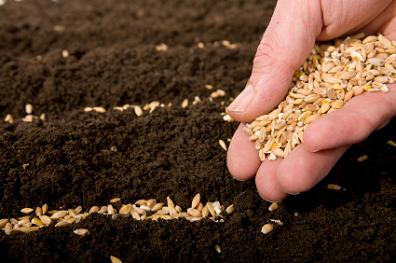 It is important to look at patterns as they emerge as well as compare them with historical data mined from your websites previous traffic patterns via site analytics.
Assigning performance benchmarks for keywords is one way to determine if you are maximizing exposure through the terms your site is optimized for. However aside from observation, knowing how to create the effect is (the ranking) is equally as important.
Planting Organic Keywords for Harvest
Think of your site as fertile soil, it represents pure potential with a clean slate that is completely up to you to determine what you grow (your content) and what type of harvest you can yield from the seeds you plant.
The seeds in this instance are keywords and without optimizing you site for specific keywords, it is like leaving the traffic that finds you up to chance vs. sculpting your site like clay into a masterpiece that has a specific type of intellectual, emotional and visual appeal.
Having the right landing page for each pivotal keyword
Each page is a turnstile or landing page depending on the visitors intent. Based on how orderly you structure information, which keywords the pages contain and the popularity of the page (both within your own site and how other sites link to / endorse it) determines the relevance score it attains for the topic. The higher the relevance the higher the ranking (when combined with other favorable metrics).
For example, if a keyword you elected to optimize with marginal effort returns 20 searches per month is it worth keeping? Absolutely, if you scale the result across hundreds or thousands of keywords with the same effort and those keywords stem into tens of thousands, and each one delivers 20-30 searches per month, then you have systematically increased your base for relevant traffic from search engines. The conclusion here is (1) pick attainable keywords and (2) make sure your site has enough information to qualify as a resource.
The common mistake is to obsess over one competitive keyword or a small range of keywords, instead of targeting an entire category of related semantic phrases. Why limit the potential of your site as well as sacrifice other ripe keyword opportunities that you could acquire (like low hanging fruit) from failing to see the big picture of search engine traffic?
Eat the Low Hanging Fruit
Having studied numerous traffic patterns from multiple sites over the course of years, the sites with the highest conversion focused on appealing to category leaders using multiple synonyms and landing pages, not just a narrow group of keywords. Each piece of low hanging fruit that has your main keyword in it, is a vote that puts you one step closer to the root phrase.
So, before you can own the tree, you must scale the ladder of relevance covering enough of the topics related to the category before your site is adopted in search engines as a source. Semantically, the seeds you plant in your domain (your pages and how you structure and link to them) have far more significance that you can imagine, which is why…
Site Architecture and Internal Linking Matters
The more structured and logical your site architecture, naming conventions, title tags and information are, the more likely search engines are to find, index and allocate that information when people use the search engine to find related information.
Wikipedia has used this strategy to virtually outrank millions of other websites in thousands of markets and categories. If you only need to master one market category, then look at their example and see that the more semantically related phrases you have that comprise aggregate content, the better.
If you structured proper information architecture by creating logical naming conventions and information silos, the only missing ingredient is internal linking, time and external links (otherwise known as link popularity) from other sites.
Website Optimization, Time and Authority
There are two ways to look at content development and chronology (1) for the initial spike of traffic that occurs within 72 hours or (2) the website authority grandfather effect after the search result goes into the dip (falls a few pages) and then comes back with authority to rank for month after month as if it were hard wired into the search results. Personally, I prefer the second type of optimization.
Through (1) constantly introducing and monitoring layers of content based on a keyword or topic, by (2) linking back to relevant pages with the most effective keywords internally and (3) building links to integral sub folders and sub pages through deep linking, this translates to search engines as a website that is a resource for the topic.
Since search engine algorithm is programmed to look at a finite number of criteria, the more favorable your alignment to the criteria it prefers and rewards the better. We touched on why cyclical layering of content based on a theme of information is one preferred method for gaining traction in search engines, but what are some other solutions that can increase traffic and expedite the process of giving multiple keywords and pages full expression?
Building links to sitemaps – This can reinvigorate pages with a history of performance that may have rotated out of the spotlight by giving them a fresh dose of link weight to redistribute as nourishment (like watering a thirsty plant)
Sift through server logs or look back 90 days to compare the quality and volume of your traffic to determine if you can and bring those keywords into a position of power where they can segue exact match and broad match traffic deeper into your site. This can be done through writing a new article, post or page, using a crafty title and linking the pieces together tactfully.
Reinvigorating keywords with a history of performance – If something slipped through the cracks and got pushed back a page or two in search engines, with a few links or building links to your links you can revive rankings from the past that delivered quality traffic with minimal effort (a few links from the right place).
Leveraging trust rank and website authority – You can leverage internal page rank by internally linking old content to fresh content or vice versa. Strong internal links go a long way and not only reinforce the main keywords you want to rank for, but also serve to elevate page rank for pages buried deep in your site.
These are only a few strategies, the key is to use multiple tactics and methods together, until you find the combination that yields the most favorable results. That is the real value of SEO, not the techniques, but having the depth to know which techniques are the most appropriate for the job.
Granted, much like a game of chess, your competition is not always your competitor, it is your own strategy that is responsible for how you overcome adversity or challenge. Ranking in the top 10 for extremely competitive keywords is no different, it just takes more time to see the fruit of your labors, however when harvest time materializes (massive quantities of traffic and conversion), it is well worth the wait.
Read More Related Posts
Hittail Long Tail Search Engine Monitoring Tool is
Organic SEO: Cultivating Natural Search Engine Rankings
The Value of Search Engine Optimization
Organic SEO: Natural Search Engine Optimization
How to Grow an Organic Search Ranking using
On Page SEO at The Roots of Relevance
Organic SEO and Low Hanging Fruit or PPC,
How Many Links Does It Take to Get