When you're tired of playing childish games like leap-frog in the search results with your competition and are ready to change the subject from recess to biology and literally dissect their SEO game. You'll need to break out some real SEO tools to analyze your on page and off page SEO efforts.
The 3 SEO tools featured in today's showcase (2 you know about and 1 you may not) are tools you can use to gauge the strengths and weaknesses of your on page and off page SEO.
Off Page Optimization (Links)
When building links, keep in mind links don't always work the way you want them to. Metrics such as which keywords rise first, which stay on page one or which keywords  recede are all based on factors outside of the off page optimization alone. The effectiveness of a long-term link building campaign requires a solid foundation. This foundation is a result of channeling enough link-flow from internal (supporting) page to the preferred landing page via internal links.
Without enough on page preparation to ensure the page has enough authority in the site to serve as a preferred landing page, then the page is susceptible to vacillations when those links lose their 15 minutes of fame in Google, Yahoo or Bing and slide past page 2 into oblivion.
Keep in mind that without a sufficient collection of internal links (linking relevant pages with relevant anchor text and using themed anchor text), links from other websites can only take a page or ranking so high.
Just like you wouldn't build castles made of sand, your link building plan needs depth, frequency and stability as well as longevity to (a) reach the objective and (b) provide long-term rankings and value.
There are two reasons to acquire links (1) some are great for SEO and (2) others are ideal for sending qualified traffic. Today, we are referring specifically to links for SEO purposes.
On Page SEO (Site Structure, Internal Links, Relevance)
What determines how a search engine ranks a website?
Anchor text – the text in the link
Link prominence and contextual link proximity
The volume or frequency of anchor text
Link velocity – the rate in which you gain or lose links
IP diversity – links from multiple domains
Domain trust – links don't just appear and disappear
The grandfather effect – getting stronger as they age
To answer it simply, (D) all of the above apply. However off page metrics only have a limited impact on a website or its rankings.
Real SEO is about on page optimization and unless the on page optimization is structured to provide inherent synergy and support to prioritized ranking objectives then links are only a temporal method for securing a transient search engine position.
In fact, the pages that have the longest staying power in the SERPs (search engine result pages) are not always the pages with the most links but are pages that have the highest ratios of relevance, diversity of links and have the proper balance of velocity and trust.
Enough Already, Show Me The Tools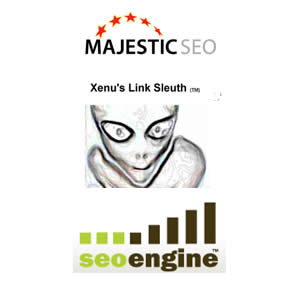 The three SEO tools we suggest that peel back the layers and  reveal on page or off page thresholds are:
Majestic SEO
Xenu Link Sleuth
SEO Engine
While you may have heard of Majestic SEO and Xenu Link Sleuth (you can download Xenu here) but the last tool http://www.seoengine.com (a new entry for most) is like having your own personal search engine which translates thousands of algorithms and search relevance rules based on present-tense information retrieval.
Effectively, The SEO Engine (Previously SEOEng) allows you to have a glimpse of how a search engine interprets and ranks your website, as well as the SEO Engine make suggestions on how to fix it.
These three tools allow you to perform on page or off page audits to  (a) determine the effectiveness of site architecture (b) links (c) track the IP range, diversity, impact and strength of inbound links (d) determine if your websites' on page optimization (market-focus) and penalties are minimized and (e) assess the effectiveness of your website architecture (Xenu Link Sleuth) (f) track the number of links leaving or supporting each page (g) if the URL structure is themed or optimal to ensure your entire website works cohesively as a unit.
In Closing
For those that think that link building is SEO, it is only one layer of the process. The real purpose of building links or earning links in the first place is to create enough on page authority to make your website strong enough to rank itself without them or to get your pages ranking with a mere fraction of the links as a result of domain and page authority.
Just like you wouldn't keep pouring more and more water in a bucket that has a large hole in it, you shouldn't build links to pages or a website that is hemorrhaging ranking factor. The three powerful SEO tools above used in tandem can reveal more about a website (yours or your competitor's website) in minutes than the weeks, months or years it took to build it.
Read More Related Posts
Organic SEO: Cultivating Natural Search Engine Rankings
Search Engine Positioning: Consumers, Supply and Demand
SEO Tips for Link Structure
Simple SEO Tips for Keyword Research
Hittail Long Tail Search Engine Monitoring Tool is
SEO is Never One and Done!
The Process of Optimization
SEO Tips to Give Stuck Pages a Push
SEO Tips for Google Caffeine