Before you start pouring money into SEO, make sure that your website has an SEO friendly site architecture at its foundation. Just like you would not add the plumbing and electrical components of a building at the last stage of construction; similarly starting with site architecture when mapping out ranking objectives is the optimal method for results.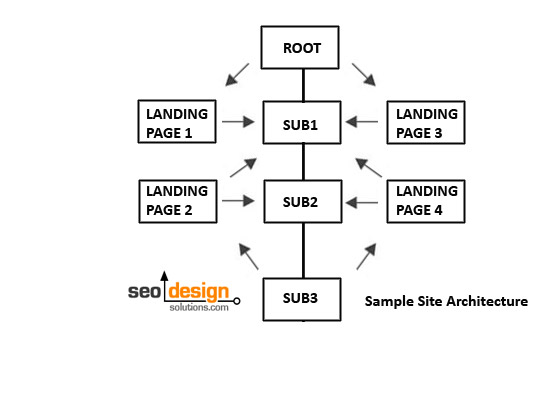 Keep in mind that every link, every word and every image within a website represent an opportunity to define your theme. By defining your theme in this context, I am suggesting that you are defining your stance as an expert or authority on a topic. Search engines are modeled on human behavior in many ways (1) they prefer to listen to specialists and experts, as noted by citation or links (2) they like popularity (link popularity) and cliques (taxonomy and citation as well as social media) and judge a website based on the character they exhibit as well as how others websites refer to the site in question and (3) they are slow to offer trust and make you earn it (just like in the real world). Similarly, search engines like people struggle to assess context from your website, if you have a dated website which was built before search engines were a major contributor to traffic and online business, chances are it is not optimized for search.
As a result, each and every thing that you do on your website either represents a missed opportunity or an opportunity to align all of the granular inconsistencies using a coherent plan and redefine the true meaning of each page to search engines. By creating consistencies in site architecture, naming conventions, sitemaps, header tags, internal links and off page inbound links to various pages, you can essentially state that THIS SUBJECT is what THIS PAGE is about vs. letting search engines decide algorithmically by default.
By doing so, you have just made the search engines job easier and provided a blueprint that they can reverse engineer based on term frequency, link weight, the link graph and off page reputation to determine which keywords are best suited to funnel traffic to each page.
Just like the diagram indicates above, how you establish (a) your primary root folder or home page, the amount of pages being fed the primary ranking factors, how each page shares internal links, sitemaps, external links and navigation or if a page is left to fend on its own determines its ability to cross the threshold / tipping point. Once crossed, then the authority each page has can funnel back into your websites information / site architecture and then sprout through new pages or take dormant pages that are offshoots and create buoyant rankings for multiple keywords per page.
Read More Related Posts
I HAVE CALL-TO-ACTION…. NOW WHAT?
Building SEO Links in Your WordPress Blog
SEO or Authority, Which is Better?
My Rankings Fell: Dealing with a Slip in
10 Tactics for Top 10 Rankings
Search Engine Strategies That Work
Click Throughs and Incentives
Aligning Keywords and Landing Pages
Creating Optimal URL Structure for SEO
Why SEO Transcends Tips, Tactics or Techniques