In an attempt to corner "the attention market", utilizing competitive market intelligence in tandem with practical investigation one can increase the trajectory of happenstance to funnel traffic and engagement to your pages.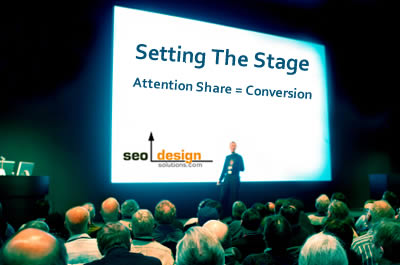 Search behavior is a by-product of impulse, conceptualization and taxonomy. Which means SEO should embrace various attention silos to funnel visitors to a relevant and timely solution to maximize user-engagement.
It all boils down to impressions, (1) the impression your content leaves on the website's global keyword density (2) the impression search engines receive when they spider and index the page (3) the impression a visitor has of the information presented (both in delivery and design).
Each impression is unique (despite the keywords since each individual viewing your site is unique), hence, your website must have a suitable information architecture in order to embrace diversity and provide the most robust user experience (to embrace various types of consumers).
Using the wrong approach on the wrong persona equates to disdain, high bounce rates and diminished user satisfaction. Remember, despite the original intention of your landing page, visitors have their own reasons when they arrive.
Based on the impulse that prompted them to search, where they are in the sales cycle (either kicking tires or just gathering information to facilitate a decision), each has a button to trigger response.
1) For New Users Why not offer a Primer on the Topic? – Cover the known pitfalls and truly put yourself in their situation and think, how can I make a memorable impression when their mindset shifts and they are ready to move forward.
How long would it take to make an e-book on your beloved topic? You could then build your list for future marketing promotions by requesting a name and email address to use for email marketing campaigns (to build a relationship until they are ready to purchase).
Remember, people purchase when THEY want to, not always when YOU want them to. It's all about trust, continuity, supply and demand, but first, use mechanisms to build trust through providing inherent value (and they will reciprocate).
Now all sales are based on impulse, it may take 3,4,5 or 10 rounds of investigation for some, before they pull the trigger on an SEO, internet marketing campaign or whatever product or service you are selling.
The tactic here is to stand out enough to establish your brand or position heads above your competition in order to capture the threshold of "attention share" from each visitor and make an impression.
2) Use Problem / Solution Comparisons for Market Positioning – You could essentially take a competitive snapshot of the landscape, spend a day "surfing as a consumer", analyze your competition, perform competitive analysis. You could write down their offers, look at the method provided then compile a report based on price /value or benefit based metrics to create the definitive guide.
In this instance, your competition can aid you in differentiating your product or service. There is nothing like a product shoot-out or benefit to benefit based summary with detailed explanations to position your brand in the mind of the consumer.
3) Create a Service or Interactive Tool that Consumers can use to Automate Rigorous Tasks – By identifying clear obstructions in methods used to mine information or assess a product or service, your company could provide some type of mashup or tool that prospects can use to (a) find additional information (to facilitate their purchase) or (b) brand your website while they are searching. Granted, this require more ingenuity on your behalf and a budget to support development costs, but this is where widgets, plug –ins or modules, browser add ons and the like can position your brand heads and shoulders above complacent competitors.
Aside from other fundamental marketing methods, I am not suggesting to build a statistical analysis model of the demographic profile of your ideal target consumer, but rather to be conscientious of their needs and the vocabulary to find vibrant buzzwords, applications or a need for expert analysis or opinion that you can capitalize on.
If building tools, widgets or e-books to engage "the attention share" of your market is not your thing, then worst case, you could always emphasize on page changes within your own website to increase organic relevance for the primary, secondary and tertiary keywords that have a proven history of conversion.
By using buzzwords and incorporating them into your landing pages, white papers, blog posts or highly trafficked pages, that increases the likelihood of long-tail traffic reaching your pages with eager consumers attached.
By embracing search behavior (1) understanding the problem or conundrum (2) providing a clear benefit to the user with a solution (3) providing valuable insights, reports or tools and (4) using mechanisms to build your list or relationships, you can sculpt a medium of loyal repeat customers that reduce your dependency on spending additional revenue to increase your reach or market share.
People inherently promote useful information, unique viewpoints and companies who go above and beyond to aid them in some way, shape or form.
What we are suggesting is, look outside of traditional stale / topical relationships (treating visitors like cattle) by trying to herd them into a decision, before you give them ample reason to understand why your brand, product or service is inherently better.
Take the time to share real benefits, show concrete examples, provide references or allow others to see for themselves with some type of trial why your product, brand or service is the best, and through your insistence of value first you will attract a higher caliber of consumer (which is always nice after the sale).
Read More Related Posts
Sacrificing Content for Relevance using SEO
SEO's Get Schooled on LSI
SEO Best Practices: Getting Started
WordPress SEO Tips: Permalinks, Categories and Duplicate Content
Does Your Business Need an SEO Company?
SEO Positioning or Market Share, Which Matters More?
Catchy Titles Have Higher Click Through Rates
SEO Tips for Internal Links, Deep Links and
SEO and Applied Keyword Research