For those unfamiliar with SEO, it is an acronym for search engine optimization; SEO roughly translates as a systemic method to achieve higher rankings in search engines for specific pages that correspond to specific keywords.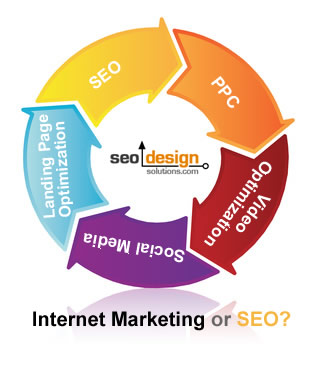 SEO is a facet of internet marketing used to deliver visitors through an opt-in mechanism. By searchers merely "executing a search query in a search engine", that query works on their behalf by scouring the search engine index and returns an array of relevant websites for shopping, entertainment, research or business based on the keywords used in the query.
Although SEO sounds simple enough, it is a time consuming endeavor.  Search engine optimization is based on a series of aggregate factors that require (1) content (the quantity is dependent on the subject or amount of competition (2) relevance (the more unique the better) and (3) reputable signals of trust and reciprocity from your peers through citation (which are backlinks / peer review from trusted websites).
Through this synergy, something powerful occurs, search engines interpret the context of your pages and assign them with a particular value based on how important they are based on the topic or keywords on the page. After the page has been graded, search engines pass it along to others who use keywords related to the "optimized" topic.
Although this is grossly oversimplified, the goal and driving force of SEO is to produce rankings. What transpires as a result of "wanting to rank for something" competitive analysis and keyword research transpire as a prerequisite and a plan for optimization occurs.
What is often overlooked in SEO is the post-click marketing process after visitors arrive which paves the path of revenue. It is equally important to create this "post-click agenda" as it was to get them there by crafting an enticing value proposition or conversion path capable of enticing the visitor to take action. Without this vital portion of the equation, the SEO effort is in vein.
Internet marketing on the contrary, is less dependent on the method, but more about the results they produce. According to Wikipedia "Internet marketing also refers to the placement of media along different stages of the customer engagement cycle through search engine marketing (SEM), search engine optimization (SEO), banner ads on specific websites, e-mail marketing, and Web 2.0 strategies."
In fact, many organizations optimize for the wrong reasons (because everyone else is doing it) without even considering conversion optimization (the fulfillment of a desired action) into account. You would think that before you spend 4-6 months targeting a competitive keyword to gain traction that you would have a clear action path established for conversion, right?
From the SEO service side of things, this is deemed "putting the cart before the horse", but quite frankly, many fall prey to making this vital mistake when it comes to using SEO. Search engine optimization is not a cure all, it is a means to broaden the sales funnel and filters relevant traffic based on search behavior and intent.
Remember SEO is passive in the sense that it merely attempts to intersect points of relevance within context by using search terms (keywords) that someone may actually type in when searching for some emotionally charged intent.
SEO does not go out and promote your business, it positions your pages to appear when people search. Which means your message is active when it is appropriate and consumers are more likely to engage your offer.
Based on how well your pages are aligned with that topic, the degree of internal continuity they have with other related pages, how well they are linked together and what type of authority either the site can develop or that page can develop determines how important it is in the search engines index.
As a result, a page considered more reputable and relevant acquires a position higher up on the totem pole in the search engine results pages. However, despite the keyword or what the website or page is optimized for, it is only 50% of the equation, what happens next is even more important (marketing and conversion).
This is where Internet marketing and SEO differ. Internet marketing on the other hand represents a vast array of practices that serve one uniform purpose, to generate more business. And, although it can be less forgiving as performance benchmarks are readily available and inherent to scrutinize each method for effectiveness, the basis is that it must produce results in order to remain useful.
In addition to return visitors, in order for a website to thrive it needs "NEW VISITORS" to offset a jaded sales cycle. Just like a popular nightclub creates a buzz by promoting and attracting new visitors (since they know the law of averages) and must compensate for waning periods of business, your website should also hedge itself.
The more new visitors that frequent your website, the more likelihood that they will (a) mention it and pass it on (b) return again to see what else your website has to offer (which could lead to an eventual conversion) or (c) earmark your website as authoritative so that you can pass more ranking factor from page to page or create new pages to acquire competitive rankings.
What you don't want is a website "like a hole in the wall dive bar" with the same regulars frequenting the establishment daily and not really bringing anything to the table (except for the habit for consumption).
The simple point is that by reaching a broader audience with your website (through multiple mediums), you are less vested in dependency on one marketing channel and can segment traffic using analytics to split test which stream of visitors produces the higher rate of conversion or user engagement.
In which case there is always PPC, Email marketing, Video Optimization, Landing Page Optimization, Podcasts Social Media Marketing or other evolving segments to aid the process of increasing sales revenue and enhancing visitor retention.
Naturally the value of marketing is dependent on the need to reach the audience who needs your product or service most and depending on the competition for those customers changes the scope of that value.
However, regardless of the process of acquisition the need to reach potential customers is paramount for the livelihood of your business. Just as in real estate the motto is location, location, location for internet marketing and SEO it's all about timing, interest and appeal.
Reaching consumers when they need it with the right message and creating enough appeal to funnel them to the right offer or landing page can either make or break your revenue model.
Conversion can occur through (1) the intersection of SEO and intent through intentional or unintentional optimization (2) dove-tailing from other websites who have built an authoritative domain or a community using banner advertising, affiliate programs, pay per click or pay per performance marketing or (c) developing inherent authority in your own domain as a destination site.
Since no two websites are alike, the methods you use will vary from site to site, the audience and its needs. What matters most is, does it work, how well, and at what cost?
Results are the basis for keeping an internet marketing medium intact as a vital asset in your approach or relinquishing it to seek a viable alternative to attracts new eyeballs to your website.
One thing is certain, regardless of the method, competition exists and the need to reach your audience in the most efficient and affordable manor has roots in either method, the range of execution is simply a matter of scope.
Read More Related Posts
SEO Tips to Find Affiliate Marketing Opportunities
SEO Ultimate Version 6.3 Unleashed: On Page SEO
Leveraging New Landing Pages Using Related Pages
SEO: Moving Past Just Rankings
Why SEO Transcends Tips, Tactics or Techniques
Find the Best Keywords to Bait New Consumers
I HAVE TRAFFIC… NOW WHAT?
Organic SEO: Cultivating Natural Search Engine Rankings
Infographic: How Profitable is Google?
Building SEO into the Core of Your Website