So now that you have visitors, what's next? Granted, SEO is about driving traffic, but what happens when your SEO has fulfilled its purpose and that traffic arrives?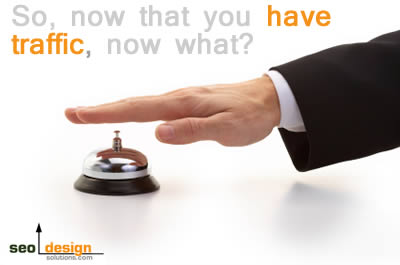 They say that getting there is half the battle, much in the same way, getting traffic to your website or blog is only the beginning of the transaction. The synergy that occurs next is up to you.
With weary web surfers bordering on advertising overexposure, making each impression count is paramount for businesses who depend on the web for their very existence.
It doesn't matter if once upon a time your website was a brick and mortar business and you decided to shift the focus to online sales or if you have a service or information based product, you still have to get the prospect to take action once they arrive to accomplish the desired conversion objective.
Sure, you can have a tiered system where the initial premise is information such as using articles or proposing solutions for common problems. However, unless you have a specialty niche with a very specific function, depending on how tactful you are with your approach when introducing your brand, your core message, how much trust and professionalism are conveyed and frankly if your website gets a thumbs up with "the feel good factor" from visitors ultimately determines who stays, who goes and who engages you offer.
Design is a critical component to optimization, but not in the direct sense. Sure, we could talk about ways to keep sites lean with images, use alt attribute tags, replace repetitive text with background images, tips on using CSS and more, but in this instance, design is directly related to the impression it leaves on the user.
Things such as, is there enough white space to convey your product (by making sure the layout is not cluttered), does your layout employ principles of usability and grouping to promote a balance of information and design? If so, then conversion or the strength of conversion are tied into your value proposition and percentage of engagement.
Too often companies are focused on getting traffic, without having the conventions to appease them once they arrive. As the web is a big place, surfing for years and never visiting the same site twice is a possibility, or rather visiting a site and being met with distaste will mentally get your site blacklisted (at least in the eyes of that prospect).
Impressions matter, each and every one of them (as there are visitors attached), granted no website can be expected to satisfy all of the people all of the time, but in your niche, your should be able to satisfy most of the people most of the time (or it may be time to consider a redesign or SEO copywriting) to dial in conversions.
With so many consumers suffering from overexposure to advertisements, branding and information overload, you need to think from the eyes of the visitor and try to design the most rewarding, entertaining or easy to use interface by using clear examples of why they would benefit from using your product or service.
I suggest reading a wonderful book by Avinash Kaushik called Web Analytics an Hour a Day for starters, he maps out multiple ways to find the hidden gems of knowledge using analytics so even a novice can understand.
After that, perhaps reading a few white papers from Jacob Nielson or Human Factors International to understand the obstructions that many websites face as a contingent of poor or unplanned design. Design should never be an afterthought any more than SEO. Both must work in tandem to produce the desired effect.
One funnels the traffic to your website, the other converts that traffic into customers when they arrive. One without the other is pointless, so, make sure you are seeing the big picture when it comes to creating a buzz, targeting your preferred audience and ultimately giving them what they want so visitors can reciprocate in kind.
Read More Related Posts
SEO Tips to Find Affiliate Marketing Opportunities
Applied SEO (In Theory and Application)
Natural Search: Relevance and SEO Rankings
Are Your Landing Pages Optimized with First Rank
DWS 2.5 Update: Introducing the New Keyword Decisions
Search Engine Marketing SEO or SMO? Who Cares
Does Your 2009 Marketing Budget Include SEO?
SEO Rankings and How to Create Them