I just wanted to let everyone who downloaded our SEO Ultimate "All-In-One WordPress SEO Plugin" know that updates are underway are coming shortly. There have been over 110,000 downloads to date from WordPress and we want to assure those who are using SEO Ultimate have the ability to enjoy the enhanced functionality it provides for years to come.
So what does SEO Ultimate do? More like what doesn't it do? But seriously, the current configuration has 19 self-sufficient modules. Each module has the ability to enable, disable, hide or silence from the SEO Dashboard if applicable.
The reason we built it this way is in to allow the user total control over which "plugins" or modules they wish to activate for their own unique WordPress configuration. We have listened to your feedback, problems and praises and will be rolling out new updates in the up and coming weeks.
Also, on the next update, we will create a method for those of you who wish to be informed of new developments with the ability to "opt in" to a mailing list as well as a segment to voice your thoughts, concerns, suggestions and kudos.
For a brief rundown on the features SEO Ultimate currently embodies refer to the list below. As for the up and coming features, John Lamansky SEO Design Solution's lead developer is planning some amazing stuff in the lab, so secretive in fact – he hasn't even told me yet, so I, like you am looking forward to the new upgrades, bug fixes and of course, enhanced functionality.
What Makes SEO Ultimate Ultimate? –  Glad You Asked.
If you were to build the functionality SEO Ultimate provides into a custom theme, it would cost you thousands of dollars. In addition, you save thousands of dollars on what you would pay for  – "expert on page advanced  SEO" within minutes of installing SEO Ultimate (and about  10 minutes of push button configuration settings) .
We built this plugin for our company to originally provide enhanced features to our team and our clients and then decided to pass it along to the WordPress community for free.
We will, however be offering an enhanced Premium Version for some modules, as building this has taken John month's of development time (not to mention the expense of tens of thousands of dollars to SDS). So, in order to justify the time and expense, we will be working on some very unique and robust features you will not find anywhere else.
Now, back to the current feature list which was written by John Lamansky for the benefit of others to grasp the value of what each SEO module in SEO Ultimate has to offer.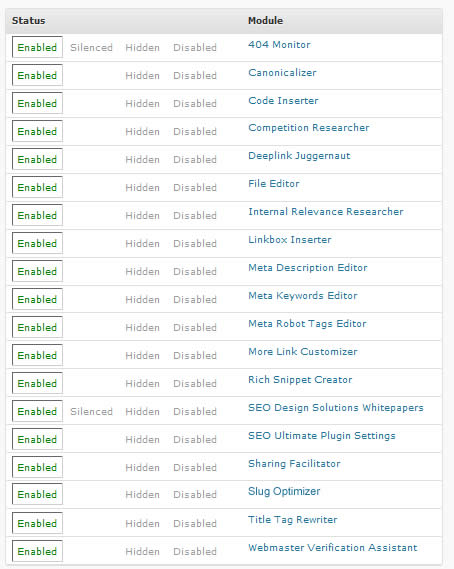 404 Monitor Overview
What it does: The 404 Monitor keeps track of non-existent URLs that generated 404 errors. 404 errors are when a search engine or visitor comes to a URL on your site but nothing exists at that URL.
Why it helps: The 404 Monitor helps you spot 404 errors; then you can take steps to correct them to reduce link-juice loss from broken links.
Canonicalizer Overview
What it does: Canonicalizer improves on two WordPress features to minimize possible exact-content duplication penalties. The <link rel="canonical" /> tags setting improves on the canonical tags feature of WordPress 2.9 and above by encompassing much more of your site than just your posts and Pages.
The nonexistent pagination redirect feature fills a gap in WordPress's built-in canonicalization functionality: for example, if a URL request is made for page 6 of a category archive, and that category doesn't have a page 6, then by default, depending on the context, WordPress will display a blank page, or it will display the content of the closest page number available, without issuing a 404 error or a 301 redirect (thus creating two or more identical webpages). This duplicate-content situation can happen when you, for example, remove many posts from a category, thus reducing the amount of pagination needed in the category's archive. The Canonicalizer's feature fixes that behavior by issuing 301 redirects to page 1 of the paginated section in question.
Why it helps: These features will point Google to the correct URL for your homepage and each of your posts, Pages, categories, tags, date archives, and author archives. That way, if Google comes across an alternate URL by which one of those items can be accessed, it will be able to find the correct URL and won't penalize you for having two identical pages on your site.
Code Inserter Overview
What it does: Code Inserter can add custom HTML code to various parts of your site.
Why it helps: Code Inserter is useful for inserting third-party code that can improve the SEO or user experience of your site. For example, you can use Code Inserter to add Google Analytics code to your footer, Feedburner FeedFlares or social media widgets after your posts, or Google AdSense section targeting code before/after your content.
Using Code Inserter is easier than editing your theme manually because your custom code is stored in one convenient location and will be added to your site even if you change your site's theme.
Competition Researcher Overview
What it does: The Competition Researcher opens Google search results in iframes based on the parameters you specify. The Competition Researcher does not scrape/crawl Google's search results or use other illicit automated methods; it just opens the Google search results in your browser.
The Competition Researcher lets you find out the following information:
How many webpages are competing for the keywords you specify.
The keyword relevance in competing webpages' titles, body content, or anchor text.
How many pages of a competing website are in Google's index.
The incoming links profile of competing websites.
The external websites that your competitors are linking to.
Why it helps: The Competition Researcher gives you quick access to specially-constructed search queries. You can study the search results to glean information about the general competition for specific keywords or information about specific competitors' websites. Knowledge of the competition is an essential component of any SEO strategy.
Deeplink Juggernaut Overview:
The Content Links section of Deeplink Juggernaut lets you automatically link a certain word or phrase in your post/page content to a URL you specify.
Deeplink Juggernaut (the auto-linking component of SEO Ultimate) features a links-per-post limiter option that lets you restrict the number of autolinks that Deeplink Juggernaut adds per post (to help avoid any potential excessive link counts).
The second option is a "nofollow" toggle for each autolink, which makes Deeplink Juggernaut ideal for autolinking affiliate keywords (an extra "bonus feature," if you will).
Another helpful feature lets you selectively set the noindex/nofollow meta robots attributes for a link for links added to individual posts/pages on your blog.
Links can be specified to open in same window or new window as well as Deeplink Juggernaut also features the ability to mass import link/url in mass via a CSV import file.
File Editor Overview
What it does: The File Editor module lets you edit two important SEO-related files: robots.txt and .htaccess.
Why it helps: You can use the robots.txt file to give instructions to search engine spiders. You can use the .htaccess file to implement advanced SEO strategies (URL rewriting, regex redirects, etc.). SEO Ultimate makes editing these files easier than ever.
Internal Relevance Researcher Overview
What it does: The Internal Relevance Researcher (IRR) opens Google search results in iframes based on the keywords you specify. For each keyword, IRR queries Google in this format: site:example.com keyword. IRR does not scrape/crawl Google's search results or use other illicit automated methods; it just opens the Google search results in your browser.
Why it helps: Internal Relevance Researcher lets you determine which of your webpages Google most strongly associates with the keywords you specify. You can ascertain this by observing which of your pages rank the highest for each keyword. You can then use this information to determine ideal targets for incoming links or ideal sources of outgoing links.
Linkbox Inserter Overview
What it does: Linkbox Inserter can add linkboxes to your posts/pages.
Why it helps: Linkboxes contain HTML code that visitors can use to link to your site. This is a great way to encourage SEO-beneficial linking activity.
Meta Description Editor Overview
What it does: Meta Descriptions Editor lets you customize the text that you want to appear under your webpages' titles in search results.
Why it helps: Getting ranked isn't enough; once you're ranked, you need visitors to click on your site in the results. That's where meta descriptions can help. When you provide text that makes searchers want to visit your site, you can increase your SERP clickthrough rate and thus increase search traffic.
How to use it: Enter meta descriptions for your homepage, posts, pages, etc. as desired, and then click Save Changes. You can also customize the meta data of an individual post or page by using the textboxes that Meta Editor adds to the post/page editors.
Meta Keywords Editor Overview
Meta Keywords Editor lets you tell search engines what keywords are associated with the various pages on your site. Most modern search engines don't give meta keywords much weight, but the option is there if you want to use it. You can customize the meta keywords of an individual post or page by using the textboxes that Meta Editor adds to the post/page editors.
Meta Robot Tags Editor Overview
What it does: Meta Robot Tags Editor lets you convey instructions to search engine spiders, as well as prohibit the spiders from indexing certain pages on your blog using the <meta content="noindex" /> tag.
Why it helps: The "Spider Instructions" tab lets you stop DMOZ or Yahoo! Directory from overriding your custom meta descriptions, as well as prevent spiders from caching your site if you so desire. The "Noindex" tab lets you deindex pages that contain unimportant content (e.g. the login page), or pages that mostly contain duplicate content.
More Link Customizer Overview
What it does: More Link Customizer lets you modify the anchor text of your posts' "more" links.
Why it helps: On the typical WordPress setup, the "more link" always has the same anchor text (e.g. "Read more of this entry"). Since internal anchor text conveys web page topicality to search engines, the "read more" phrase isn't a desirable anchor phrase. More Link Customizer lets you replace the boilerplate text with a new anchor that, by default, integrates your post titles (which will ideally be keyword-oriented).
Rich Snippet Creator Overview
What it does: Rich Snippet Creator adds special code to your posts that asks Google to display special pertinent information (known as Rich Snippets) in search results for certain types of content. For example, if you've written a product review, you can use Rich Snippet Creator to ask Google to display the star rating that you gave the product in your review next to your review webpage when it appears in search results.
Why it helps: Rich Snippet Creator enhances the search engine results for your content by asking Google to add extra, eye-catching info that could help draw in more search engine visitors.
SEO Design Solutions Whitepapers:
What it does: It allows you to gain access to articles from (yours truly) on the SEO Design Solutions Blog.
Why it Helps: Within a few clicks from your WordPress SEO dashboard, you can gain access to information published by SEO Design Solutions.
Plugin Settings Overview
The Settings module lets you manage settings related to the SEO Ultimate plugin as a whole, such as import data, export data, upgrade or downgrade the plugin to previous versions (if there is a conflict), you can reset all features or control global settings.
Sharing Facilitator Overview
What it does: Sharing Facilitator adds buttons to your posts/pages that make it easy for visitors to share your content.
Why it helps: When visitors share your content on social networking sites, this can build links to your site. Sharing Facilitator makes it easy for visitors to do this.
How to use it: Pick which button type you'd like to use (ShareThis or AddThis) and click Save Changes. Try enabling each button on your site and see which one you like better.
Slug Optimizer Overview
What is does: The "Slug Optimizer" module that optimizes the URL slugs of your WordPress posts and pages.
The slug of a post or page is the portion of its URL that's based on its title. Out-of-the-box, Slug Optimizer works behind-the-scenes to remove common words from the slugs of new posts/pages.
Why it helps: This increases the in-URL keyword potency of your new posts and pages because there will be fewer words competing for relevance in your permalinks.
Unlike other plugins, Slug Optimizer lets you customize which words are removed without having to edit the plugin's code.
Slug Optimizer also lets you edit the automatically-optimized slug if you decide you want to re-add a removed word.
Title Tag Rewriter Overview
What it does: Title Tag Rewriter helps you customize the contents of your website's <title> tags. The tag contents are displayed in web browser title bars and in search engine result pages.
Why it helps: Proper title rewriting ensures that the keywords in your post/Page titles have greater prominence for search engine spiders and users. This is an important foundation for WordPress SEO.
How to use it: Title Tag Rewriter enables recommended settings automatically, so you shouldn't need to change anything. If you do wish to edit the rewriting formats, you can do so using the textboxes below (the "Settings & Variables" tab includes additional information on this). You also have the option of overriding the <title> tag of an individual post or page by using the textboxes under the "Post" and "Page" tabs below, or by using the "Title Tag" textbox that Title Tag Rewriter adds to the post/page editors.
Webmaster Verification Assistant Overview
What it does: Webmaster Verification Assistant lets you enter in verification codes for the webmaster portals of the 3 leading search engines.
Why it helps: Webmaster Verification Assistant assists you in obtaining access to webmaster portals, which can provide you with valuable SEO tools.
Instant Pulse Propulsion Feature Overview
With SEO Ultimate's new "Instant Post Propulsion" feature, this optimization scenario can now become reality. In SEO Ultimate 3.9 and above, Deeplink Juggernaut adds a textbox to the "SEO Settings" section of the WordPress post/page editors; this textbox is called "Incoming Autolink Anchors." This is where the Instant Post Propulsion magic happens.
Say you're writing a post about "blue widgets" and you want this post to rank well. You also know that you've talked about "blue widgets" in previous posts. With the new Instant Post Propulsion feature of SEO Ultimate, all you have to do is type "blue widgets" into the "Incoming Autolink Anchors" box of your new blue widgets post.
Then, when you publish the post, SEO Ultimate's Deeplink Juggernaut module will literally search for that anchor in all your old posts (even if you have thousands of them) and autolink all instances of it to your new post. This will give your post an instant "allinanchor" relevance boost just by harnessing the internal link juice and established authority of your own site.
With Instant Post Propulsion, you can literally build internal links to your new content without leaving the WordPress post editor. (You can even feel free to add link anchors to draft posts, because the links will only activate once the post is published.) This is yet another feature of SEO Ultimate that can't be found in any other WordPress SEO plugin.
We hope you enjoyed the overview, if you haven't already, you can download SEO Ultimate from searching under Plugins> Add New and typing in SEO or SEO Ultimate for a download and install link or you can manually do so from http://wordpress.org/extend/plugins/seo-ultimate/
Read More Related Posts
SEO Ultimate 0.8 Released!
SEO Design Solutions Founder Jeffrey Smith Interviewed by
SEO Ultimate WordPress SEO Plugin Version 1.1 Released
Building SEO Links in Your WordPress Blog
SEO Ultimate WordPress Plugin Surpasses 5,000 Downloads
How to Theme and Silo Your WordPress Blog
SEO Ultimate 3.9 Adds "Instant Post Propulsion" Feature
SEO Ultimate: Mass Meta Title and Description Editor
SEO Ultimate Adds Deeplink Juggernaut Upgrades
The SEO Ultimate WordPress Plugin Video Tutorial