The tenth major release to the ultimate WordPress SEO suite, SEO Ultimate 1.0 upgrades the Canonicalizer module with a new, exclusive feature labeled "Redirect requests for nonexistent pagination."
This seemingly-simple setting fills a gap in WordPress's built-in canonicalization functionality: for example, if a URL request is made for page 6 of a category archive, and that category doesn't have a page 6, WordPress by default will generate a normal status code 200 page instead of issuing 404 or 301 headers (thus creating two or more identical webpages).
This duplicate-content situation can happen when you, for example, remove many posts from a category, which reduces the amount of subpages needed to show all the posts in the category, thus turning those extraneous subpages into duplicate-content URLs.
The new Canonicalizer feature in SEO Ultimate 1.0 fixes this WordPress problem by issuing 301 redirects to page 1 of the paginated section in question.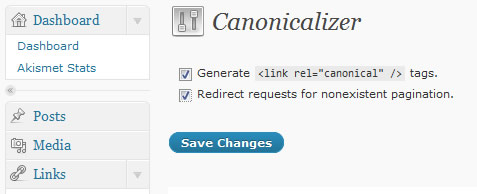 This hands-free checkbox-toggled feature allows you to alter your site's taxonomy structure without having to worry about creating dead-end indexed pages. So far, we haven't found this useful feature in any other WordPress SEO plugin.
After installing SEO Ultimate or upgrading to version 1.0, all you have to do to enable the plugin's canonicalization features is go to the "Canonicalizer" module under the "SEO" menu, make sure both boxes are checked, and then click "Save Changes."
Also, webmasters with stringent database load requirements will be happy to know that SEO Ultimate 1.0 drastically reduces database writes and space usage. There's even a new feature in the Plugin Settings section that can disable SEO Ultimate's database-write-heavy components entirely and allow the plugin to run on the front-end off of just one settings row in WordPress's options table.
With version 1.0, SEO Ultimate now also accommodates users of the "Changelogger" plugin (by not showing a second inline changelog when Changelogger is enabled) and the "Ozh Admin Drop Down Menu" plugin (by registering an icon for the plugin's admin section).
Additional Modifications for SEO Ultimate Version 1.0
Feature: Canonicalizer can now redirect requests for nonexistent pagination
Feature: Visitor logging can now be disabled completely from the Plugin Settings page
Feature: Logged visitor information can now be automatically deleted after a certain number of days
Feature: Added icon support for the Ozh Admin Drop Down Menu plugin
Bugfix: 404 Monitor notification count now consistent with new errors shown
Improvement: Canonicalizer now removes the duplicate canonical tags produced by the WordPress 2.9 Trunk
Improvement: Inline changelogs now won't display if the Changelogger plugin is activated
Improvement: SEO Ultimate now selectively logs visitors based on which modules are enabled
SEO Ultimate is an all-in-one SEO plugin featuring:
Title Rewriter – Lets you format the <title> tags of posts, pages, categories, tags, archives, search results, the blog homepage, and more.
Noindex Manager – Lets you add the noindex meta robots instruction to archives, comment feeds, the login page, and more.
Meta Editor – Lets you edit the meta descriptions/keywords for your posts, pages, and homepage. Also lets you enter verification meta codes and give code instructions to search engine spiders.
Canonicalizer – Inserts <link rel="canonical" /> tags for your homepage and each of your posts, Pages, categories, tags, date archives, and author archives.
404 Monitor – Logs 404 errors generated on your blog.
Linkbox Inserter – Encourages linkbuilding activity by inserting textboxes containing link HTML.
File Editor – Lets you edit two important SEO-related files: robots.txt and .htaccess
Slug Optimizer – Removes common words from post/Page slugs to increase in-URL keyword potency.
With a new duplicate-content-fighting feature, speed/efficiency improvements, and under-the-hood tweaks, SEO Ultimate 1.0 is a fine-tuned upgrade to an already-powerful WordPress SEO plugin.
Download SEO Ultimate 1.0 Directly from WordPress using the link above, or view additional information including an informative video, on the plugin information page.
Read More Related Posts
SEO & Natural Language Discrimination By Semantic Analysis
SEO Ultimate WordPress SEO Plugin Version 2.0 Released!
Alternative Traffic Sources: Diversity and Conversion
Important SEO Factors for Achieving Higher Rankings
SEO Principles and the Wisdom of Applied SEO
In the Kingdom of Content, Relevance Rules
Search Engine Optimization: Creating Tiered Structures
SEO = Equals The Power of Choice!