Let's talk about links. Information retrieval and SEO have a sympathetic relationship, however, built within the fabric of search engine algorithms are specific filters (such as null sets) that when they observe a high frequency of a specific metric have a tendency to dampen or normalize its influence – particularly pertaining to links.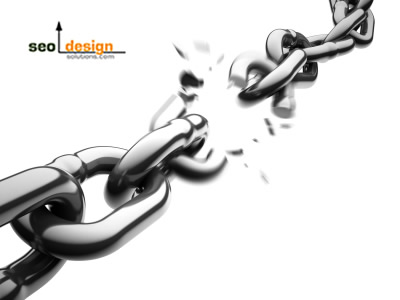 This is why it is important to create a robust link profile featuring a variety of link types which all serve their specific function. With so many ways for people to build links, it almost makes your head spin when considering the options.
Examples such as:
Editorial Links (link in content).
One Way Links (links that are non reciprocal).
Reciprocal Links (you link to me and I link to you in exchange).
Site wide (in blogrolls, footers or in templates on every page).
Link wheels (Site A links to Site B, Site B Links to Site C, Site D Links to Site B, etc.).
2ND Tier Push (building links to your links instead of to your main web property / site).
Nofollow links (insulated "supposedly" but they still pass some weight).
Internal Links (the most important type of citation that you have control over).
When thinking about link flow and juice, consider this; would you gain more link flow and ranking power from getting one link from a PR7 (PageRank 7) site that is aged with 10 outbound links or 1 link from 700 unique PR1 sites?
If I had a choice, I would take the 700 (punches in bunches) type links, but why? Each type of link has it place and they all add a different facet to a websites link profile. That would be to establish a larger footprint indicative or trust. Once your web property has more trust (by aging and acquiring links), it can produce its own internal link dynamo to augment buoyancy in search engines to produce its own rankings.
The point is, from a standpoint of PageRank and link juice, one link supporting one anchor "your keyword" vs. link diversity and having multiple overlapping anchor text that includes "your keyword and other modifiers" spread across various sites produces another type of signal – "trust via citation".
Links are a type of currency online, they say "hey, that page is important", so that page should rank higher, but even aside from the citation value they also allow people to click them and find your website.
Link Velocity (how fast you gain or lose links) should be commensurate with the degree of authority a domain has. For example, a new website does not have the same ability to stave off potential algorithmic penalties as an aged site, so don't try to push the envelope too hard – or it may be for naught.
As a site ages, it requires less of a push from other sites, the internal pages start to marinate and percolate with PR and domain authority, and with one internal link and a few backlinks from the right sources is all that is needed to snatch the pebble from your competitors most coveted keyword.
Just keep in mind, simplicity is the objective and diversity provides trust. Don't over think linking, just keep the link volume, quality, diversity and velocity within reason (promoting your website is not a sin).
Aside from earning links from writing world class content, link bait of socially mesmerizing others to link to you, your competition is not going to lay down and hand over their spot in the search engine result pages anytime soon.
With a double edged sword and standard of in the bottom of the SERPs if you don't and penalized if you do (the wrong way), what are you waiting for? Get out there build some bridges, "I mean links" to gain traffic, trust and a little search engine respect.
Read More Related Posts
Gaining Attention/Market Share through Value Based Conversion
SEO Tips for Retooling Legacy Content
Landing Pages: The Value of Propositions
Aligning Keywords and Landing Pages
New Tag Minimizes Canonical URL's
SEO Tips to Spy On Competitors
SEO Link Building Tips: Other Ways to Build
Each Page Should Pack an SEO Punch
Google Toolbar PageRank Update October 2009
Happy New Year's Page Rank Update