There comes a point when you cross a particular threshold where the conditional aspects of continuity suggest alternatives, specifically in contention to SEO and conversion.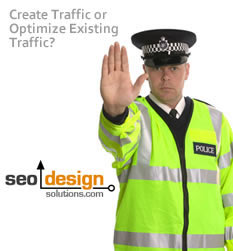 Logic suggests that we need SEO to drive traffic, just as we need traffic to increase sales; however without factoring the common denominator (which in this case is conversion) the purpose becomes obsolete.
It has been said before that SEO is never one and done, similarly managing visitor expectations and providing users with actionable conversion objectives (on every page) is mandatory to leverage and broaden the sales funnel, but how do you know when it's time to invest in additional metrics?
Indicators such as:
Increases in traffic for specific keywords that fail to deliver more business/conversion.
New keyword appearing as top landing pages for terms outside of your preferred 2nd and 3rd tier keywords.
Increases in bounce or exit rates
New paths of navigation developing within the site from lack of continuity or indirectly providing a lack of the preferred path to visitors (inappropriate linking or not proposing a primary conversion objective), emphasis on preferred.
SEO delivers traffic, but your offer must (a) be clear enough for a 4th grader to understand (which is the average reading level for most consumers) as well as (b) clearly create an emotional trigger to make them want to take action "instead of just THINK, wow, that was great" and then buy something from one of your competitors that has a more polished landing page.
The obvious solution in this scenario is to do both. Sift through server logs or analytics to determine the keywords with the highest engagement time and determine how valuable they are to your overall marketing strategy.
Scale conversion by controlling what you can first (which is your own content) then look for ways to increase the sales funnel by going back to the drawing board with firm information and competitive intelligence as a result of keyword research and existing traffic patterns.
For example you could (a) analyze the top 50 keywords driving traffic to your website (b) create alternative landing pages for those keywords (singular, plural, synonymous variations) and then optimize them (by internally linking to them from your pages that currently rank for the root keyword in addition to deep linking from outside sources).
Within 30-90 days those new pages should be ranking (depending on the competitiveness of the keywords) which you can then assess in tandem with your existing primary traffic.
There are hundreds of strategies you could implement, naturally, finding the best one for your business is what matters.
For example, if you have a contact form that lacks engagement, provide an incentive such as sign up now to receive 10% off your next purchase or a gift card worth $200 to apply to your next "conversion objective".  The strategy is extremely effective if visitors are on the fence. Just make sure you stand behind your offer to keep your offer ethical.
In closing, you must see SEO for what it is (a means to deliver traffic to your pages and test your offer), however, get traffic to the site and having that traffic convert must be treated as individual objectives if you want to truly optimize the user experience.
Read More Related Posts
Code Inserter Module Added to SEO Ultimate
Market Analysis: How to Discover Your Competitors Keywords
What is Website Silo Site Architecture?
SEO, Content or Conversion
SEO Tips to Step Over Competitors
Google's Loves Affair With Authority Sites
SEO Tips to Manage Content Development
Search Rankings Start with Great Keywords
SEO is Great, But What Happens Next?
Clicks, Keywords and Conversions