Ok, so you're using WordPress for your blogging platform or CMS (content management system), why? Because its (1) easy to use (2) scalable and (3) if tweaked properly like these sites can tear a hole in the SERPs and virtually rank for everything if cultivated properly with SEO; but how do you release it's pure on page power with just a few clicks and a superior SEO strategy? Let's get started with SEO Ultimate…
With 21 of the most popular brands using WordPress to power some of their most lucrative properties, it's not a matter of "why" but rather "when you implement" WordPress in some way, shape or form as a stand-alone sub domain,  sub folder or use it to power your entire site.
If you have a background in php, then using hacks to fine tune your set-up is not a problem, but what about the rest of us who don't always have the time to "touch the code"? What can we do to implement advanced SEO tactics to set it and forget it so we can focus on ROI, promotion and profits?…Enter SEO Ultimate.
The Genesis of SEO Ultimate:
What started as a suite of private proprietary WordPress plugins used exclusively on our website and client sites evolved into SEO Ultimate. This plugin is a work in progress and is virtually the "Swiss Army Knife" of WordPress plugins that essentially allows you with just a few clicks and some direction to quickly and easily implement SEO best practices to customize virtually every facet of your on page signals to search engines.
Features that used to rely on 4 or 5 plugins are provided from one centralized control panel (known as modules) allowing you to toggle and configure each one, depending on your needs.
Which WordPress plugins you use are entirely up to you, however, it's more about what the purpose of the site is, and whether or not you require the degree of robust or simple personalization they offer.
From the perspective of function alone, SEO Ultimate is a genuine contender as a "MUST Have" SEO Plugin. Let's reveal why…
For the full list of SEO Ultimate features, visit the download page at WordPress. Today our SEO tip provides suggestions on how to personalize display parameters for optimized titles, tags and categories. We will also breeze through some of the other features and functions and provide a few tactics which are ideal for their implementation.
Getting Started:
If you haven't already, the most basic and most powerful SEO tactics start with your on page factors a.k.a on page optimization). These on page factors determine the extent of which off page factors (link building and promotion) are used in tandem to create a dynamic progression of rankings.
SEO Ultimate was built on this premise allowing a common WordPress installation to be transformed within minutes into a lean, mean content management ranking machine that merely needs content and keywords to start ranking.
Keep in mind that rankings are by the page, so the stronger the signal for on page relevance, the easier it is to produce buoyancy for a page, which in turn expresses the latent combination of queries that correspond to search engine result pages are based upon:
Potential keywords on that page (as a result of the on page content)
Titles and H1 tags
Relevant Meta data
Internal link structure and
Inbound links pointing at that page.
There are no magic bullets for SEO and no shortcuts; only best practices or questionable ones, depending on the risk / reward and effectiveness that mandate their use or dismissal. If you didn't have a ranking objective or where not clear when you constructed your website, then changes are that it is not optimal.
Starting with SEO from the CMS (content management system) provides an extra layer of functionality that is virtually baked into the site from the onset vs. having to go back and retool dated metrics, in an attempt to make the best of a bad situation.
By integrating signals of relevance within the site architecture, mirroring the same signals in unison in the website title, meta data, and link structure can provide a stable foundation for additional off-page ranking factors and metrics to acquire rankings with a fraction of the effort.
The Title Rewriter:
Chances are if you are reading this now, you neglected the power of titles and meta tags for on page relevance and need a way to (a) create uniformity, structure and coherence for new content or (b) need to go back to legacy content to revise page or post titles. That is the purpose of the title rewriter module.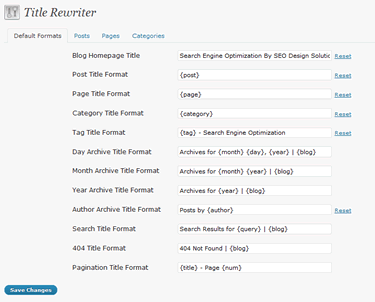 Much like the All in One SEO Pack, SEO Ultimate allows you to fine tune the output of various metrics for the Blog Homepage, the Page Title Format, Category Title, Tag Title, Archive title (including Month, Year), Author Title format, Search Title Format, 404 Title and Pagination Title format (for WordPress Subpages).
Except, SEO Ultimate does not stop there and has enhanced title rewriting capabilities; in addition to being able to merely adjust titles for "new content", you can take it one step further by going back to legacy data to rewrite SEO Friendly titles for all post, pages by using the sub tabs provided at the top of the module.
One new feature that is not provided on any other SEO plugin, is the ability to rewrite the category name to an "SEO friendly" convention, in the event that you haphazardly selected something with a less than desirable label in the past.
Also, for the title rewriter module, if you are still relying on or using the All in One SEO Pack, you can easily import that data into SEO Ultimate in one click by going to settings> Import All In One SEO Pack Data.
Creative uses of this module alone can allow you to rescue legacy content from weak or ineffective titles (which can increase search engine result page positioning in addition to making each page unique).
These benefits allow you to:
Completely rework one of the most primary metrics for optimization (for pages, posts, tags can categories) with uniform naming conventions to increase relevance.
Personalize categories and use the "excerpt" functionality of WordPress to rename your category archives another name and archive "unique titles, tags and more" to minimize duplicate content.
Combine this with the additional modules such as:
The canonicalizer – adds the canonical tag to pages and posts to establish the preferred category and or version of the page.
404 Monitor – allows you to find and eliminate broken links).
The Meta Editor – allows you to quickly modify your .htaccess file or robots.txt file).
Noindex Manager (allows you to prevent indexing or critical areas and improve site security).
Slug Optimizer -removes stop-words from URI naming conventions to increase relevance.
Linkbox Inserter – encourages backlink activity with a Link to this post prompt and provides html code.
Module Manager – provides the ability to easily toggle the setting from on to off for the featuers you do not want enabled.
Import / Export Settings –  to quickly use/share optimal setting in other WordPress installations or back up your favorite settings.
Like any tool, they are only as skilled as the one using them, which is why we will cover each module providing useful suggestions and potential tactics for using them in tandem with other SEO modules.
Stay tuned for more updates on the SEO Design Solutions SEO Ultimate WordPress Plugin. If you haven't already; download your free copy today from WordPress or visit our product information page for additional information on SEO Ultimate's dynamic features and functions.
Read More Related Posts
Gaining Attention/Market Share through Value Based Conversion
SEO or Web 2.0 Internet Marketing?
Search Engine Strategies That Work
SEO Ultimate Adds Deeplink Juggernaut Upgrades
5 SEO Tips to Avoid Common SEO Mistakes
Introducing The Happy Landings WordPress Theme!
Content Wars, SEO & the Google Caffeine Sandbox
Do You Earn, Buy, or Sell Traffic?