Instead of propagating hoopla with a long introduction or preamble, let's just get down to some real SEO tactics that you can put into practice to improve your website's search engine position.


If you are familiar with link velocity (the rate in which you acquire or lose links) building links is not about quantity, but rather quality.
The Link Building Quagmire
Older sites typically have more authority (which is a plus) but they may not always have links passing as much link juice to their pages. Also, depending on where the links are creating the most flow (to the homepage or to a deep link) matter.
Links that do not pass value are like empty shells for SEO value, sure, they might show up in an inbound backlink inquiry when researching your competition, but you have to know which links are the ones are really passing value to use the information to your advantage.
For the record, typically 70% or more of most links to websites are inert or become that way over time due to (a) the website linking to them having poor site architecture (b) an excessive number of outbound links dispersing link weight (c) CMS systems which archive content after 30 days (so the link juice also gets archived) or (d) the page providing the link falls out of favor with a new search algorithm.
The less dependent your website is on external links the better, which means you need to shore up your own cross linking to eliminate link loss from entropy or diffusion.
Knowing How to Assess Your Competitions Search Results
So, say for example that you touched on a keyword, achieved marginal success but got rolled off the page. How do you fight back and reclaim your position or ascend beyond your competition to the top 10? You need SEO tactics and plenty of them such as this.
First, you can see how many pages your competition has to work with, if you conduct a search for a keyword or key phrase and the domain name (home page) is returned as the search result then that means the website has multiple pages on the topic which create the aggregate affect for that ranking.
If the website has concentrated topical data for a query as well as strong internal or external links, individual pages will be returned as the search result. So, instead of domain.com being the search result, you will see domain.com/keyword-ranking-in-top10.html which means that page has gained authority for the search term.
Paying attention to minor details such as this allow you to gain insight into the optimization strategy of your competitors to see which SEO tactics they are employing.
As a result, by unraveling their SEO method, you can emulate the same or a combination of that and SEO tactics to increase the relevance for your own pages in search engines.
You could then study that page, see how many internal links from within the site it has, how many external links from other sites it has, the type of content presented, the density of the keywords, etc.
The flip side of this is, pages that appear with the domain name as the top 10 result, can further cement their rankings by electing a secondary page to split the relevance with (simply by cross-linking the two pages). So, if you do not have internal pages appearing for competitive keywords, then this tells an SEO that you need to strengthen your internal linking.
One solution for this type of site would be (1) pick a landing page / champion for your site, identify all of the pages with relevance (using our Ultimate Link Building Tool) then build links from all subsequent pages to the preferred landing page (with the ideal keywords) and find 10 external links to that page when you are done.
If it is a deep link (which it should be) the toggled relevance from shifting the internal links in your own site combined with the external links should give that page prominence enough to ascend the rankings.
Just like two heads are better than one, two pages or three pages are better than one. Considering time and trust may be the missing ingredient, the sooner you implement strategies like this the better.
Depending on the competition for the keyword and the topical relevance and authority your website has determine how fast search engines respond to the refined version of your preferred landing page.
Ideally, you should allow 90 days for this strategy to create the ripple effect (gain page rank and trust) then funnel that back to the whole domain. Just like a dynamo, internal links make the domain stronger, the stronger the domain is, the stronger the internal pages become.
Internal Link Prominence and Links that Pass Value
Link proximity and number of outbound links are calculated to determine relevance. For example, the first link on a page and the last link on a page both carry different link weight, so, the idea is to keep the outbound links low (or use no-follow) and may sure the anchors (the text in the link) are aligned with purpose.
For example, if I knew the search query I wanted to rank for was pulling one page in the SERPs, I could link to the next algorithmically identified page by using a site:domain.com keyword command in Google or using our Ultimate Link Building Toolkit to find initial, secondary and tertiary keywords as ideal landing pages.
Going Back to Move Forward – Audit Your Internal Links
This is a priceless SEO strategy which can be implemented as a retro-active counter measure (going back after the fact) to retool pages for relevance through internal linking. Who says you can't go back to a page and edit it? It is your website after all, and why look outside your own site for external links when often enough your own site can pull off the same result in search engines?
At least, if you are going to target a specific keyword, the first place to look is within your own website first. Remember, each link is a vote, internal or external, and sites that are themed internally (have more links cross referencing related pages with related keywords) require less external links to pull rankings in the SERPs (search engine result pages).
For example, even when blogging, you could use our Ultimate Link Building Toolkit to identify all of the other pages in your website that have relevance for keywords (all at once).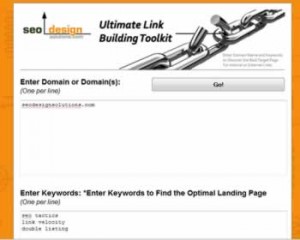 Then, armed with that information, use those pages to deep link from relevant areas of your site to secondary landing pages promote co-occurrence for those keywords to promote topical relevance through the way you link to yourself. Just consider wikipedia as the master of this strategy and you can see the affect it has (94% deep link ratio) with millions of pages equals millions of double listings for virtually any term.
In layman's terms, use the Ultimate Internal Linking Tool by (1) entering your domain (2) adding the keywords you want to rank for and (3) using the pages returned to link from your existing page to the page it deems the most likely landing page (based on the chronology of the results).
Methods to Cross Link Pages for Relevance (Virtual Theming)
By linking page A to page B (using a keyword in the title of page B, and both the keyword page A already ranks for in the top 10 is also the keyword linking to page B and page B is next in line for relevance for the shared keyword, a double ranking appears in Google (a search result accompanied by an indented second search result from your website).
Not only does this provide a potential for 200% click through conversion (from pushing another competitor off the page for the search term) but it also serves to further establish your website as an authority on the topic which allows you to PULL OTHER PAGES UP for related semantic keywords and phrases.
Pages already ranking in the top 10 are like flags on top of Mount Everest for that keyword. They have already triumphed and passed the initial battery and scrutiny of the search engine algorithms inquiry, so, each day that passes (unless somebody bumps them) is another day that is building more authority for that page (and the site) for related keywords and search queries. Just like wine, relevant pages with popularity and authority get stronger with age.
By tactfully managing this process, you can potentially (a) acquire double listings for search terms (obviously easier for less competitive phrases) as well as (b) add a layer of defense to your optimization strategy.
Case in point, Bruce Clay has been in the top 5 results for the term search engine optimization for the last 5 years due to their website's authority (great job Bruce, who is one of the mentor's of SEO).
Maintaining prominence for competitive keywords require that you create as many pages as possible that can fit the bill. We understand how competitive phrases like that are a constant work in progress as our own rankings fluctuate from the top 10-top 15 results for the term SEO, which is equally as challenging to maintain.
However, the page that Bruce Clay Ranks for "now" in Google is not the home page, it is another page which has achieved enough of the algorithmic factors to represent that query vs. all of the other websites competing for that phrase (which is a very competitive phrase).
To say that this is deliberate would be highly probable, the premise is, why take the chance of putting all of your ranking eggs in one basket, the more pages that have relevance for as many overlapping terms the better, this is what promotes keyword stemming and the ability to appear in the top 10 for thousands of unintentional "broad match searches".
So, to reiterate, if you see a sub page that is outranking other domains for a specific keyword in the top 10 results, that page has a higher relevance for the search term, than most other sites on the topic.
Depending on the competition and relevance of your own site, you can have multiple pages ranking side by side for multiple keywords (depending on the content, context and how you build internal and external links to the pages).
The next step is, the double listing (one of our favorites) which shows two pages from a domain for one keyword (which means the domain and the additional page both have the ranking factors suitable for the query).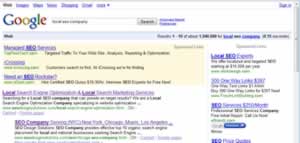 Double listings are another side effect of website authority, strong internal links or topical pools of information within a website. The moral of the story is, why settle for one page (as the fulcrum) when you can have two or more waiting in the wings in the event that the algorithm changes and pulls a shuffle on which ranking factors receive more weight in the SERPs.
Better safe than sorry, by hedging your options internally (through impeccable SEO tactics) you can relinquish the need to obsess over competition. By focusing on the relationship between your own site and search engine algorithms, you can let your competition deal with their own discrepancies and you reinforce multiple pages with relevance and character.
Read More Related Posts
Search Engine Alternatives: Using Visual, Video and Image
Search Engine Positioning The Right Way to Climb
10 Search Engine Optimization Tactics
Google Caffeine, Site Speed and New Search Engine
Why Should Search Engines Rank Your Pages?
Who Said Search Engine Optimization Was Easy?
Google SEO Tips: Matt Cutts & Eric Enge
10 Search Engine Optimization Tips