You may have seen our first Optimized WordPress Theme Small Business SEO and now joining the lineup is SEO Basics a FREE WordPress theme inspired by our very own site at SEO Design Solutions.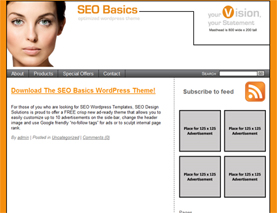 Details about the SEO Basics theme:
Orange, black, and gray combined to create a clean, great-looking theme. Supports rotating 125×125 sidebar ads, widgets, gravatars, and microformats. Valid XHTML and CSS. Based on Sandbox. Developed with SEO in mind. A premium-quality free theme.
Download the theme from WordPress at http://wordpress.org/extend/themes/seo-basics
Built-in Settings Pages
When you upload and activate the SEO Basics theme, it automatically adds 2 additional settings pages to the Design tab – no plugins required! A bonus normally found only on for-pay premium themes, these pages are labeled "SEO Settings" and "Ad Settings" – it's like getting 2 plugins in addition to an already-fantastic theme.
Frontpage Meta Manager
SEO Basics allows you to control the SERP appearance of your frontpage by specifying its <title> tag and <meta> description/keyword tags from the "SEO Settings" page.
Nofollow Settings
Under the "SEO Settings" page, you can find checkboxes for applying the nofollow attribute to the following 3 locations of commonly-undesired PageRank leakage:
The registration/login links
Blogroll links
Links to date-based archives
Nofollow is optional for the above 3 link types, and can be enabled/disabled at will.
SEO Basics also adds nofollow to comment permalinks – further decreasing unnecessary page links – without any PHP processing overhead.
Rotating Ad Manager
SEO Basics includes an easy-to-use manager for 125×125 sidebar ads, which are popular on modern ad-driven blogs.
SEO Basics can store data for up to 10 ads; you decide how many are shown at a time. Every time a page on your blog is loaded, SEO Basics will randomly pick ads in shuffled order (to help decrease visitor ad blindness).
Customization Support
SEO Basics is based on the powerful Sandbox framework. Sandbox's advanced CSS selectors allow for high levels of user customization. If those who aren't familiar with CSS/PHP programming, SEO Design Solutions also provides SEO Basics customization services for its SEO clients.
Built-in Dropdown Menus
SEO Basics uses your WordPress page hierarchy to construct dropdown navigation menus using a stylish black-and-gray palette.
In addition, the menu degrades properly when CSS display is disabled, in order to ensure that vision-impaired visitors to your blog can still utilize the SEO Basics navigation menu.
Modern WordPress Feature Support
SEO Basics goes above and beyond antiquated WordPress themes by providing support for modern WordPress functionality like gravatars and widgets, to ensure you can take full advantage of those features.
Widget Title Fixer
SEO Basics seamlessly modifies default widget behavior so that titles are presented in <div> tags instead of the typical header tags, so as to avoid giving undesired SEO weight to irrelevant words like "Archives" and "Categories."
Header Banner Customizer
SEO Basics allows you to easily change the banner image in the header. All you have to do is upload an 800-pixels-wide image to your server, and then paste in the URL on the "Header Settings" page under Design.
Internationalization Support
Since SEO Basics is based on Sandbox, you can use Sandbox translation files to translate the theme to your own language. WordPress's internationalization features are also utilized for textual strings specific to SEO Basics.
Microformat Support
Thanks to its foundation on Sandbox, SEO Basics supports microformats such as hCard, hAtom, and XOXO, which are part of the Semantic Web paradigm that has oft been heralded as "Web 3.0."
Valid XHTML and CSS
Last but not least, SEO Basics passes World Wide Web Consortium tests for proper XHTML and CSS formation, to help ensure proper parsing for search engines and visitor browsers alike.
Read More Related Posts
SEO Ultimate WordPress SEO Plugin Version 2.9.1 Released
WordPress SEO Tips: Permalinks, Categories and Duplicate Content
SEO Ultimate WordPress SEO Plugin Version 5.7 Released!
SEO Ultimate WordPress SEO Plugin Version 1.0 Released
WordPress SEO Tip: Implementing Theming and Siloing
SEO Ultimate WordPress SEO Plugin Version 1.7 Released
Tips for Using SEO Ultimate WordPress SEO Plugin
20 Practical SEO Tips to Super-Charge Your WordPress
Introducing – the WordPress Tweaks Plugin