SEO Ultimate, the free WordPress SEO plugin from SEO Design Solutions, has just been updated with an overhaul to the 404 Monitor module.
404 Monitor now features a new, streamlined interface. 404 errors are grouped by URL and feature a hit counter and hit recency info.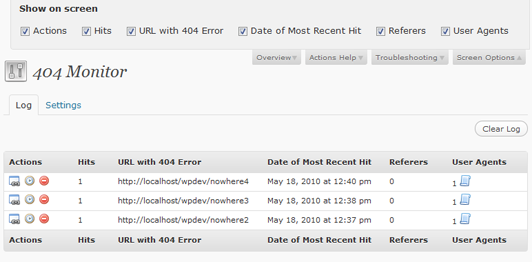 Each 404 now has its own convenient dropdown list of referring URLs. This is ideal for pinning down broken links on your site that may be generating the 404s.
Just click a referrer to open it in a new window. There's also a similar list for user agents, ideal for catching 404 URLs that search engine spiders are visiting.
The 404 Monitor data table also integrates with WordPress's "Screen Options" feature that lets you personalize the interface of your 404 Monitor by enabling/disabling log table columns.
The new 404 Monitor was built with the modern website in mind and automatically ignores common sources of harmless 404s, including the iPhone's apple-touch-icon.png requests and browsers' favicon.ico queries.
In addition to these new and improved features, 404 Monitor maintains existing features such as Google Cache querying, selective log entry deletion, and a temporary disable option.
Not only does version 2.1 include 404 Monitor version 2, it also includes over a dozen other behind-the-scenes tweaks, including database optimizations and PHP overhead reductions.
If you're already taking advantage of the power of SEO Ultimate on your own WordPress blog, you can upgrade to the latest version in just a few clicks by going to the "Plugins" section of your WordPress admin.
If you haven't tried out SEO Ultimate yet, give it a spin using the automated installer on the SEO Ultimate homepage or download it directly from WordPress.
Read More Related Posts
SEO Ultimate Launches Premium Version Called SEO Ultimate+
SEO Ultimate WordPress SEO Plugin Version 1.7 Released
SEO Ultimate WordPress Plugin Surpasses 1 Million Downloads
SEO Ultimate WordPress SEO Plugin Version 7.2.1 Released
SEO Ultimate 1.6 Adds All in One SEO
SEO Ultimate WordPress SEO Plugin Version 2.9.1 Released
SEO Ultimate 6.5 Features Deeplink Juggernaut Upgrades
SEO Ultimate: Mass Meta Title and Description Editor
SEO Ultimate Adds Sharing Facilitator Module
SEO Ultimate 3.9 Adds "Instant Post Propulsion" Feature